HISTORY
Background
Incorporated in 1954-55, Habib Oil Mills (Pvt.) Limited was initially established as an oil expelling unit. The present management took over the unit in 1978. The core business of HOM has been the manufacturing of edible Oils & Fats. Our flagship brands Habib Cooking Oil and Banaspati are among the top brands of the country. We have multiple other brands to cater to all the tiers and segment of the national market.

The group has diversified and taken under its umbrella numerous other businesses.

HOM Quality Foods is excelling in manufacturing a wide range of Plain spices, Recipe Mixes, Ready to Cook recipes, Sauces, Ketchup, Desserts, Salt, etc. The sales, local and exports, have witnessed a positive growth over the few decades.

Habib First Water is in the business of selling Pure Mineral Water to its consumers.

MCR is the sister firm that manages multiple famous international restaurant franchises across Pakistan. These include Pizza Hut, Burger King & TGI Fridays.

Satcom has its expertise in network management, WIFI services, Data storage, Fiber Optics, Security & Surveillance and wireless connections.

Millennium Software (Pvt.) Limited is software and services company capable of providing a wide range of software and IT related services.
×
ABOUT US
Profile
Habib Oil Mills (Pvt.) Ltd. "HOM" is one of the largest FMCG Company exclusively in the edible oil & fats sector in Pakistan. The company produces premium brand cooking oils and hydrogenated cooking mediums, and markets the products through its extensive distribution network, which covers almost all commercially viable markets nationwide.
The marketing policy of HOM envisages development of brand loyalty among the customers and consumers through their continued involvement and participation in series of several promotional activities run by professional staff and consultants. The products enjoy vast popularity and brand loyalty and stand among firsts in terms of market share in this sector nationwide. The company has achieved a growth of over 500% in last ten-year period, which is primarily attributed to its consistent quality care and consumer loyalty.
×
OUR VALUES
Vision
To win hearts and minds by providing products for a 'healthy lifestyle'.
Mission
We will continuously endeavor to execute critical initiatives required to fulfill our vision – in line with our 6 core values. In doing so, we will strive to achieve operational excellence coupled with superior financial performance and leading customer satisfaction.
Values
Our aim is to become the trend setters in promoting healthy living through providing quality food products." Values Customers HOM is customer driven. We strive to provide products and services of superior value to meet the expectations of our internal and external customers. Innovation HOM constantly strives to be creative and innovative in all its endeavors. All HOM employees are encouraged to bring forth new and better ideas for improved performance, whatever our responsibilities. Ethics HOM demands openness and honesty throughout its operations to engender trust, and integrity underscores everything we do. We believe that every activity must be able to pass the test of public and internal scrutiny at all times. People HOM employees are all partners, working together in the pursuit of the mission and strategy. We strongly value teamwork, and we want every employee to be motivated to succeed. Performance HOM is performance driven. We continuously aim to improve in all that we do.
Teamwork
Commitment
Consumer Focus
Integrity
Innovation
Quality
×
ISO Certification
HOM has been an ISO 9002:1994(E) certified company since November 1997.
Recently another milestones in Habib Oil Mills, HOM Quality Foods & First Water Company have been achieved through continuous quality improvement and efforts of each individual in the shape of ISO 9001:2008 ISO 14001:2004 and ISO 22000:2005 certification.
The achievement of the same shows an indication of continuous growth featuring Key parameters of Quality, Food Safety and as well as Environment.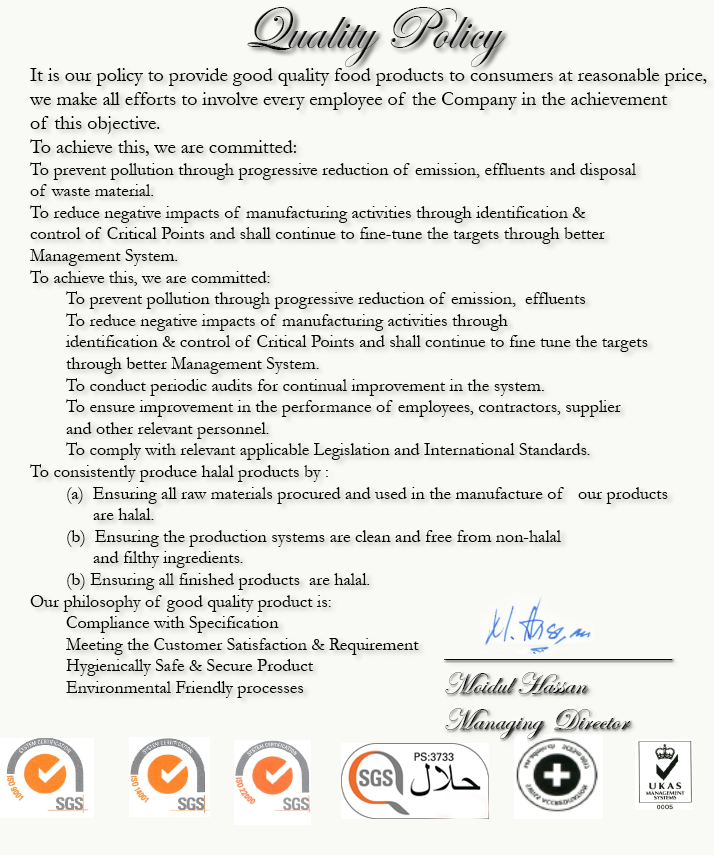 ×